Mushroom and paneer tikka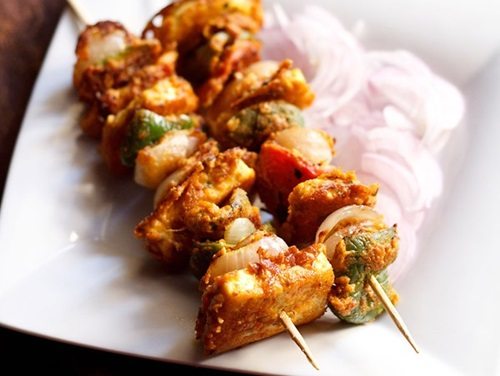 Tasty food is something everyone needs and craved for be it a healthy person or someone diabetic. Life is so hard on diabetics right? Relax we are here for you with this mushroom and paneer tikka which will help you fight back with a yum. It's healthy and super yummy to fill any occasion of yours let's see how to prepare,
Preparation time: 20 minutes
Cook time: 30 minutes
Ingredients
How to make-
First, wash the lemons and separate it from all the rind to juice.

Make a paste of ginger and garlic for a better taste do mix some green chilly in the paste.

Peel the onions and chop them into small square pieces.

Now were all the vegetables, de seed the capsicum and cut them into square pieces too.

Take paneer and cut them in blocks.

In a bowl take oil along with the paste to marinate the chopped vegetables and leave it for an hour.

Arrange paneer and vegetable alternatively and cook on direct gas or open charcoal, you can also cook it in the preheated oven.

On gas or an open charcoal cook it for 5 minutes and in the preheated oven at 180 degrees for 15 minutes.
Your healthy dish is all ready to serve. For some extra praise garnish it with fresh raw vegetable slices and served with a green chutney will enhance its taste.
Happy snacking :)